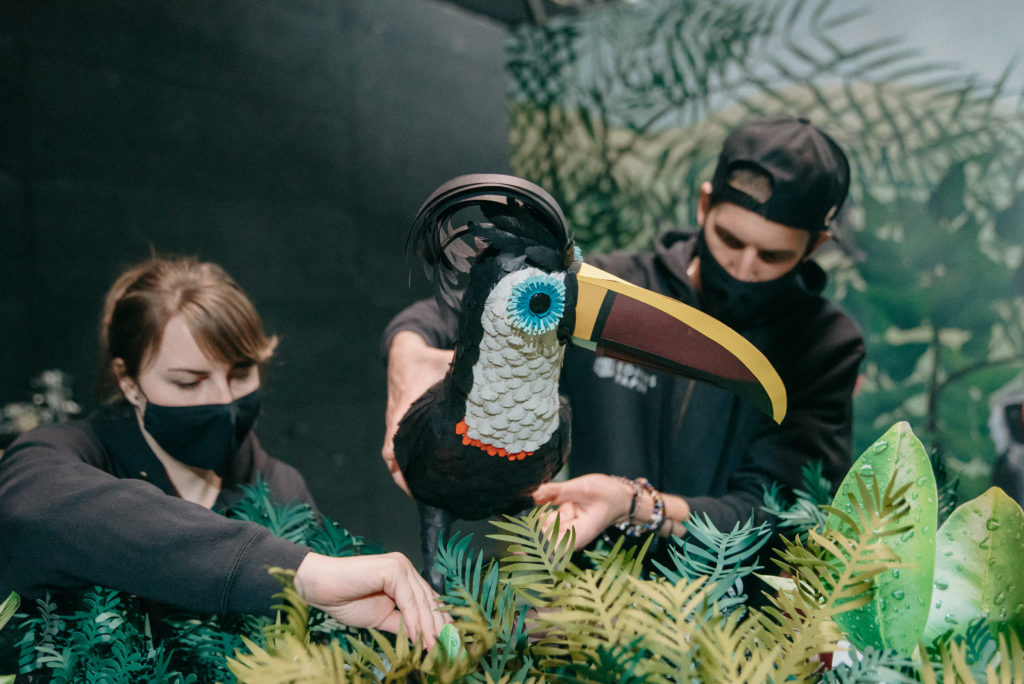 The paper animals made for Konica Minolta Europe commercial were made up of a paper mesh inside, covered with small lasercut elements one by one. Each feather or hair was placed carefully on the right place to result in this level of detail.
We enjoyed creating these paper animal props for the Konica Minolta Europe commercial directed by Menzkie.  The paper feathers were cut by laser and all curled and glued one by one by our team. 
Check the commercial here.
Services
Paper props
Client
Konica Minolta
Date
February 2022
Agency
Indicia Worldwide
Director
Menzkie

Production Company: Irresistible Studios
Senior Producer: Blake Kenward
Executive Producer: Matt Nelson
Creative Director: Tristan Pride
Art Director: Rob Lloyd
Senior Creative / Copywriter: Sammy Rickwood
Account Director: Lloyd Moore
Business Director: Freya Capon
DOP: Marcell Nagy
1st AD: Csilla Szigeti
1st AC: Tamás "Baxi" Bakos
2ND AC: Tamás Forintos
Stills Photographer: Márk Viszlay
Service Production Company: Lions Production
Line Producer: Petra Iványi
Production Manager: Sári Péli
Production Assistant: Péter Király
Production Designer: Imola Láng
Coordinator: Rozi Szigeti
Set Decorator: Merci Nagyváradi
Set PA: Rozi Köves
Gaffer: András Szendrő
DIT: Adám Nemesdédi
Projector Op. Gábor Karcis
Projector Standby: Tamás Hraszky
Video Assistant: Mihály Kálmán
Paper Craft: Edina Németh at Edina's Paper
Editor: Andy Needle
Colourist: Jonny Tully at CHEAT
Sound Designer: Ben Hauke at Pitch & Sync
Best Boy: Péter Szendrő
Stylist: Judit Sinkovics
Wardrobe Assistant: Nóra Gyenge
Make-up Artist: Barbara Keserű
Hair Stylist: Márk Károlyi
Talent: Dániel Papp
Steadicam Op.: András Khin
Storyboard: Ernő Kukla
Prop: Tamás Toma
Prop: András Tóth
SFX: Henrik Gottschall
Construction: Ferenc Kulcsár
Casting: Open Casting
Catering: Zsolt Soltész
Unit: Gábor Halász
Medical Services: Gábor Zahorszky